Spotlight on the eye: Bridging basic research, therapeutic application and self-help
The 11th Retina Information Day took place on 9 November 2019 at the MPI-CBG and attracted about 130 visitors. This day offers patients, their families and interested people information on the latest developments in basic research, clinical practice and research as well as new possibilities for self-help. In the focus are diseases such as retinitis pigmentosa, macular degeneration and manifest glaucoma. This annual event is jointly organized by the Center for Regenerative Therapies (CRTD) at the TU Dresden, the MPI-CBG, the University Hospital Carl Gustav Carus Dresden (UKD) and the self-help association PRO RETINA Deutschland e.V.
Greetings from Karin Papp, chairperson of PRO RETINA, and Mayor Dr. Kristin Klaudia Kaufmann, Deputy for Labour, Social Affairs, Health and Housing of the City of Dresden opened the day, followed by lectures from science and medicine on new opportunities for research on stem cell-derived retinal organoids (Dr. Mike Karl, DZNE/CRTD, Dresden), therapy development for age-related macular degeneration (PD Dr. Boris Stanzel, Eye Clinic Sulzbach) and current treatment options for diabetic retinopathies (Dr. Dirk Sandner, Eye Clinic UKD). Next to the talks, the visitors had the opportunity to discuss with experts at information stands from various aid associations, get counselling by physicians of the Eye Clinic Dresden, get advice from the German Central Library for the Blind and experience the world from the perspective of patients with retinal diseases in a walk-in eye model. In an open discussion forum at the end of the event, the speakers of the day answered questions from the audience.
These diverse contributions are bridging basic research, therapeutic application and integrate the valuable work of self-help groups. Many of the research approaches aim to facilitate therapies for the treatment of visual impairment and thus improve the quality of life of those affected. Recent years have also shown that many people with visual impairments and their relatives not only come to the Retina Day to hear about the latest research, but also to talk to other people affected and build a network.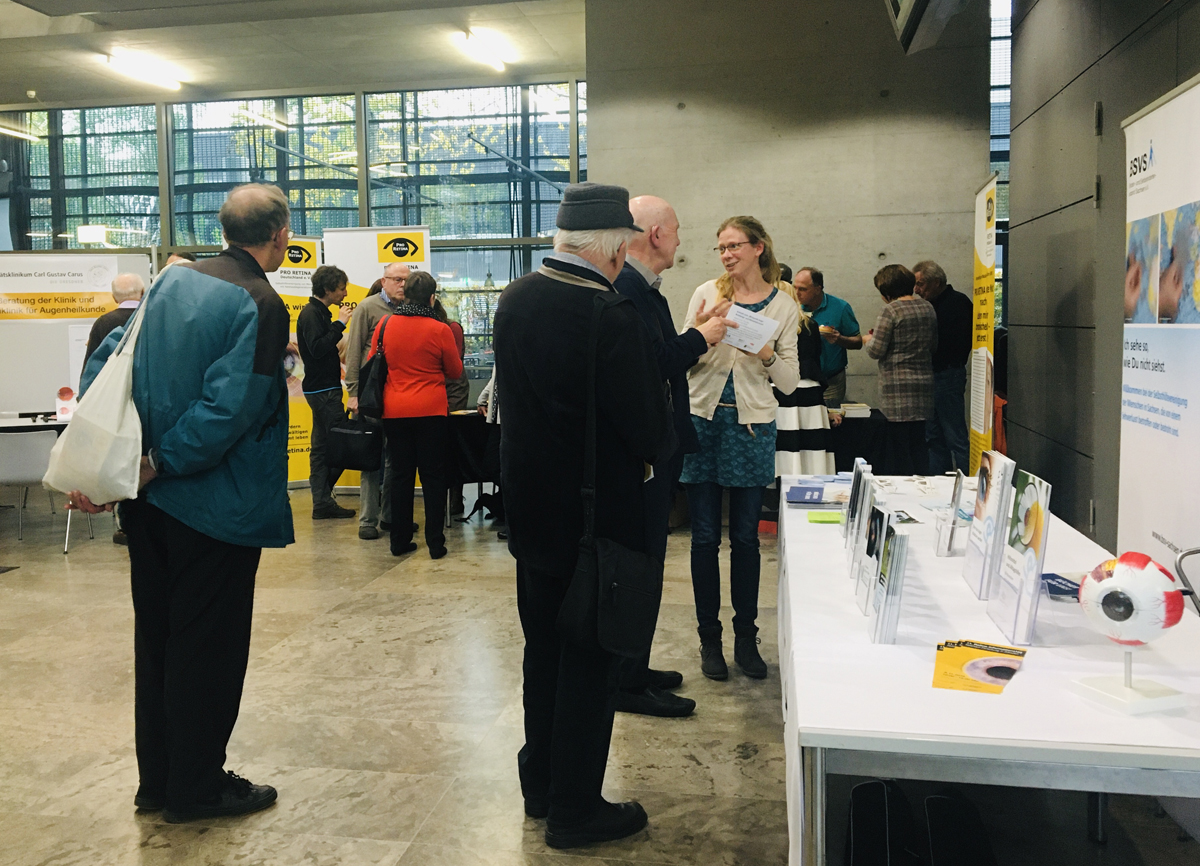 © MPI-CBG