Program
The Career Day 2012 will start with an overview of common career trajectories for scientists by Andrea Hutterer, Program Manager at EMBO. This will be followed by numerous presentations from speakers who previously completed a PhD/postdoc and then transitioned to science administration, patent law, industry or scientific writing.

In parallel with the line-up of great talks, participants will also have the opportunity to speak one-on-one with Dr. Axel Szabowski (Kepos - Career Consultants for Scientists) about how to seek out alternative career paths, and how to prepare for applications and interviews.

The Career Day will conclude with a "Meet the Speaker Mixer", giving you a chance to engage in informal discussions with the speakers over light refreshments. Don't be shy!
Detailed schedule (15th of October)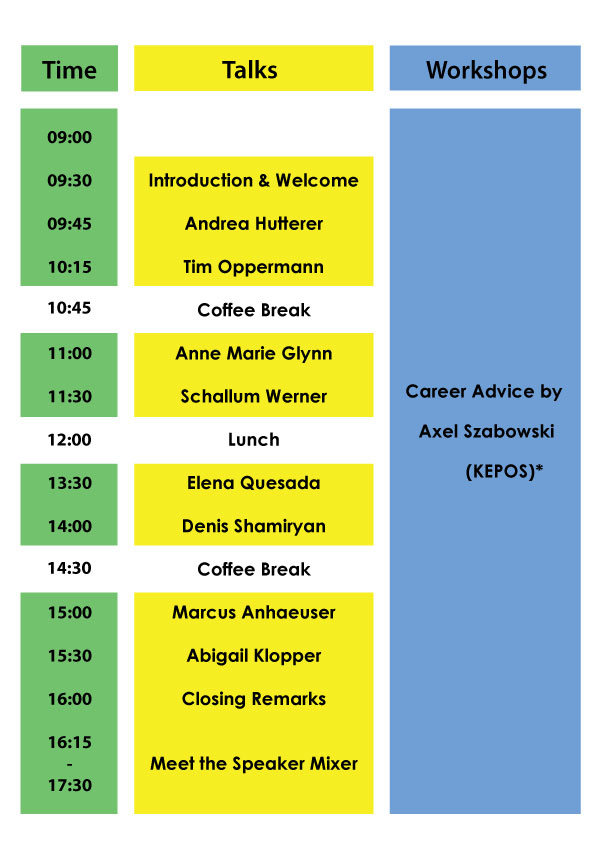 Speakers
This year our guest speakers come from a wide variety of industries, and hopefully this will encourage you to consider a broad range of career opportunities for your future endeavors.
Andrea Hutterer
Programme Manager at EMBO
Andrea studied biochemistry at the University of Vienna. she did her PhD from 2002-2006 at the IMP (Institute of Molecular Pathology) in Vienna working on nervous cell development in the fruit fly Drosophila melanogaster. In 2006 Andrea moved to the UK to start a post-doc funded by an EMBO and an HFSP fellowship at the Wellcome Trust / Cancer Research UK Gurdon Institute. During her postdoc she studied the molecular mechanisms of cytokinesis. In autumn 2010, after four years of post-doc Andrea made the transition into science administration and management and started working as a Science Manager at the MRC (Medical Research Council) Headquarters in Swindon. In spring 2011 she then moved to Heidelberg, Germany to take up the position of Fellowship Programme Manager at EMBO.
Tim Oppermann
Patent Lawyer at Pfenning at Meinig & Partner
Tim Oppermann has been with Pfenning, Meinig & Partner since 2006 and a patent attorney since 2010. He was born in Westerland/Sylt in 1975, he studied physics at the University of Regensburg and Trinity College Dublin, Ireland, focusing on theoretical particle physics. He obtained his doctorate at the Humboldt University of Berlin in neurobiology and information processing in biological systems, and conducted a large part of his research at Boston University, USA. Tim Oppermann is registered as a Patent Attorney, a European Patent Attorney and a European Trademark and Design Attorney. He is an expert on US patent law and spent time at a well-known firm in Minneapolis, USA. He has extensive knowledge of obtaining and representing industrial property rights in medical and information technology, automotive and plastics engineering, and green technologies.
Schallum Werner
Programme Officer at DFG
Schallum works as a Programme Officer at the German Research Foundation (DFG) responsible for Collaborative Research Centres and Clusters of Excellence. He earned his Diploma in Biology at the EMBL (Heidelberg) and the TU Darmstadt. Going further south he did his PhD with Detlef Weigel at the MPI for Developmental Biology in Tuebingen. After a brief stop at the University of Duesseldorf as a Scientific Coordinator for a Cluster of Excellence pre-proposal he joined the DFG in 2010.
Elena Quesada
Associate Manager at New Biotechnic
Elena Quesada-Hernández obtained her PhD at the MPI-CBG in the lab of Carl-Philipp Heisenberg. After a short postdoc she left Academic Science and moved on to Industry. She is now working at a biotech company in Sevilla (Spain) where she has responsibilities as Project Manager and Coordinator and Head of Avian Diagnostics within the Molecular Biology Department.
Denis Shamiryan
Process Engineer at GLOBALFOUNDRIES
Denis has more than 10 years experience in semiconductor R&D and currently works in Dresden at GLOBALFOUNDRIES as MTS Process Engineer. There he is responsible for conducting research to support development of plasma etch processes, publishing the results in scientific journals and reporting at conferences. Denis is experienced in ellipsometry, particularly in novel applications that go far beyond conventional thickness measurements. Originally from Novosibirsk, Russia he holds a PhD degree in Electrical Engineering from Katholieke Universiteit of Leuven, Belgium. Denis is also a chairman of the organizing committee of Plasma Etch and Strip in Microelectronic workshop (PESM).

Anne-Marie Glynn
Manager of Courses & Workshops at EMBO
Anne-Marie Glynn is Manager of the EMBO Courses & Workshops Programme and Head of EMBO Global Activities. Originally from Ireland, she holds a PhD jointly awarded by the European Molecular Biology Laboratory, Germany, and the University of Dundee, UK. In addition to promoting scientific and management training and dissemination of results, she is actively involved in establishing new links between researchers in Europe and beyond, most recently in Asia.
Marcus Anhäuser
Science Journalist, Editor at TU Dortmund
Marcus Anhäuser studied Biology in the 90s (Behavioural Ecology), but then he decided against a phd and a scientific carreer. Now he is the editor of the journalistic monitoring project called "Medien-Doktor", conducted by TU Dortmund. He and his colleagues judge health reporting in the media and support other journalists with tips and tools for health journalism. Before that he worked ten years as science journalist, as freelancer and editor for various magazines and nationwide newspapers (Süddeutsche Zeitung, Handelbslatt, Spiegel Online, National Geogpahic Deutschland etc.). Since 2007 he also writes in his blog Plazeboalarm.de, since 2010 on the on the Scienceblogs platform. Learn more: homepage, Twitter.
Abigail Klopper
Associate Editor at Nature Physics
Abigail joined the editorial team at Nature Physcs in 2011, after a memorable postdoctoral stint in the Grill lab at MPI-CBG and MPI-PKS. She is now one of five editors responsible for putting together the monthly issues of Nature Physics. Her days are filled with reading and selecting submissions for review, managing the peer-review process, commissioning and editing commentary material, and writing articles for the journal.
Axel Szabowski
Professional career advisor from KEPOS